Vincenzo's Granada Hills proudly will be offering Free Delivery starts Today Sept 13. With your

Online Order

through Menufy.
Get The Best Pizza in SFV delivered FREE, Vincenzo's Granada Hills Balboa Blvd.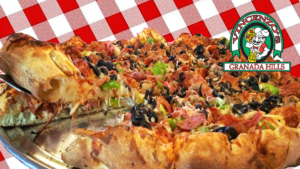 Delicious, Quality Food at an affordable price at Vincenzo's Granada Hills
The Secret at Vincenzo's Granada Hills is that they have the Gold! What's the Gold? Come See!! Come Taste, It's in the Dough!!! Our recipe goes all  the way back to Italy… Dine In, Carry Out, or Delivery.
Our Large feeds 5-6 adults!
Google 5 Star Pizza Granada Hills – Vincenzo's on Balboa
No Matter How You Slice It – Simply the Best Pizza in SFV, we Love Our Customers and they Love Us!
Come in and let us "Throw You a Pie"
Perfect sauce to cheese ratio for us. Fresh garlic and pepperoni have the right "crunchiness " not to mention being cooked perfectly. ask for some Ranch Dressing or Butter for the Crust, You'll be glad you did!
Vincenzo's Pizza Granada Hills opened it's doors in 1990 – Still using Original Recipes, Just The Best!