Have Pizza Night At Vincenzo's Granada Hills! Dine Affordably Tonight With The Family. Try Our Large Pizza At Medium Price Or Feed The Entire Family With Our Delicious Family Meal Deal!
Treat Yourself To Pizza Tonight! Order Online With Vincenzo's Granada Hills! Scan the QR code with your phones camera to Order Now Or Click Here.


You won't find a better deal with the other guys!
Feed an entire family of 5 without burning a hole in your wallet! Order The Family Meal Deal

Online

or For Pickup!
Try Our Lasagna Dinner Special.  ORDER NOW!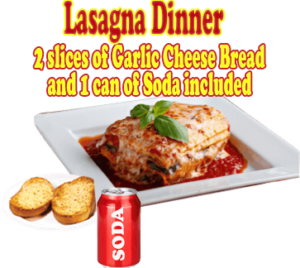 Vincenzo's Granada Hills Balboa Blvd. Has The Best Pizza in SFV. Eat A Delicious Meal With High-Quality Ingredients at an affordable price only at Vincenzo's Granada Hills.
"Perfect sauce to cheese ratio for us. Fresh garlic and pepperoni have the right "crunchiness " not to mention being cooked perfectly".