Vincenzo's Granada Hills Is The Best Pizza IN SFV. Make Vincenzo's Your Go To Pizza Spot! We've Got The Gold! Dine In, Take-Out Or Order In! 
Let us "Throw You a Pie"!
Delicious Pizza, Wings, Pasta & Salad. Stop In Today For The Best Deal In The Valley. Buy a Large 1 Topping Pizza for the price of a Medium! Our Large Pizza is 20″ and can feed 5 to 6 people. Our 17″ medium is larger than the other guys! We Value Quality & Quantity At Vincenzo's Granada Hills! We use only the freshest & highest quality ingredients out there For All Of Pizza's & Entrees!
Add A Side Of Our Delicious Wings Or Our Antipasto Salad.

This Offer Is

For Dine In and Pick-Up Only. Take Advantage Of This Offer Using The Promo Code Here: Get Code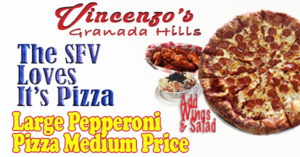 Click The Image For The Promo Code
Try One Of San Fernando Valley's Favorites!!! Large Pepperoni Pizza for a Medium Price
See how our Pizza is Made – See The Reel!


Try Out Our Delicious Lasagna Special. This Tasty Offer Also Comes With 2 Slices OF Garlic Cheese Bread And 1 Can Of Soda.
Get The Best Pizza in SFV, Vincenzo's Granada Hills Balboa Blvd. Delicious, Quality Food at an affordable price at Vincenzo's Granada Hills. Dine-In, Carry Out Or Order For Delivery.
Vincenzo's Granada Hills is simply the Best Pizza in SFV! we Love Our Customers and they Love Us!
Perfect sauce to cheese ratio for us. Fresh garlic and pepperoni have the right "crunchiness " not to mention being cooked perfectly. ask for some Ranch Dressing or Butter for the Crust, You'll be glad you did!
Vincenzo's Pizza Granada Hills has been proudly serving the SFV since 1990.